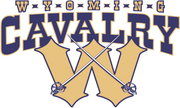 The Wyoming Cavalry are a professional indoor football team of the Indoor Football League. They play their home games in Casper, Wyoming at Casper Events Center.
The team began play in 2000 as an expansion member of the original Indoor Football League as the Casper Cavalry. Despite a good inaugural season, they fell in the playoffs to the Black Hills Machine. When the league folded, they moved to the newly-formed National Indoor Football League as the "Wyoming Cavalry" and became a charter member. The team was decently successful, making the playoffs in four of their seven overall seasons, and even making it to the inaugural Indoor Bowl, losing to the Mississippi Fire Dogs (which were coached by Irvin Favre, Brett's father). On July 14th, 2007, Wyoming was scheduled to play an Indoor Football Championship of sorts against the Fayetteville Guard. Both franchises received letters on July 7th, 2007, telling them they have been kicked out of the National Indoor Football League. On August 18, 2007, the Cavalry officially announced they would join the American Indoor Football Association as a flagship team of the league's new Western Division. [1] On July 26, 2009, the Cavalry hosted the Reading Express in AIFA Bowl III and were defeated 65-42. On July 25, 2010, the Cavalry traveled to Baltimore to take on the Mariners in AIFA Bowl IV and would go on to lose 57-42. As of the end of the 2010 season, the Cavalry are 0-5 in championship games.
On September 1, 2010, the Cavalry announced they would be joining the IFL for the 2011 season and beyond.
External links
Edit
Ad blocker interference detected!
Wikia is a free-to-use site that makes money from advertising. We have a modified experience for viewers using ad blockers

Wikia is not accessible if you've made further modifications. Remove the custom ad blocker rule(s) and the page will load as expected.