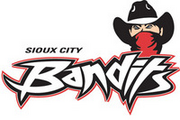 The Sioux City Bandits are a professional indoor football team, currently a member of the American Professional Football League. They play their home games at the Tyson Events Center.
The Sioux City Bandits organization has seen five different leagues as the Bandits having played in the original Indoor Football League as the Sioux City Attack, the National Indoor Football League, the United Indoor Football Association, the new Indoor Football League, and now the American Professional Football League.
Notable team feats include the signing of former Sioux City running back Fred Jackson to the 2006 Buffalo Bills (NFL). Jackson was allocated by the Bills to play in the NFL. Upon returning for NFL training camp, Jackson was selected to be just one of 8 on the teams practice squad. Jackson is currently listed on the Buffalo Bills 53 man roster. Jackson, out of Coe College, was the 2004 - 2005 United Indoor Football's (UIF) league leading rusher in which he set an Indoor Football record for most yards in a single season with more than 1,700.
That year the Bandits went into the championship game facing division rival Sioux Falls. Sioux City had beaten Sioux Falls 3 times during the regular season, but ended up losing the championship game. Interestingly enough, Sioux City has lost every game to Sioux Falls since that championship game.
External links
Edit