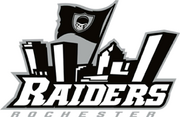 The Rochester Raiders are a professional indoor football team based in the Rochester, New York area. They are currently an inactive member of the Indoor Football League and play their home games at the Dome Arena in the suburb of Henrietta. The Raiders were previously a member of the Continental Indoor Football League (formerly the Great Lakes Indoor Football League) from 2006 to 2008 and the American Indoor Football Association for two exhibition matches in 2008. Prior to the Dome Arena, the ESL Sports Centre, the Main Street Armory, and the Blue Cross Arena served as home venues of the Raiders.
The Raiders played in the CIFL championship game twice, both times against the Port Huron / Michigan Pirates. They lost to Port Huron in 2006 but defeated Michigan in 2007. Rochester finished the 2008 regular season undefeated at 12–0; however, the team resigned after their final regular season opponent, the Flint Phantoms, did not show for the game and forfeited.
The Owner suspended the 2011 season, but looking to return in 2012.
External links
Edit