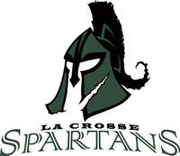 The La Crosse Spartans are a professional indoor football team. They are a member of the Indoor Football League. They play their home games at the La Crosse Center in La Crosse, Wisconsin.
The team was founded in 2009, and is coached by former NFL player Gilbert Brown.
On August 6, 2009, Chris Kokalis announced his intentions to start an IFL team in La Crosse for the 2010 season.[1] Former NFL player Gilbert Brown was announced as the head coach.[1] On August 27, the Spartans were conditionally approved as members of the IFL. Such condition is that the Spartans negotiate a successful arena lease with the La Crosse Center.[2] On September 30, the Spartans got the formal go-ahead from the La Crosse Center Board to play at the center.[3] The Spartans are the third indoor football team to call the La Crosse Center home, following the LaCrosse RiverRats and the La Crosse Night Train.
2010 Season
Edit
The inaugural season for the La Crosse Spartans was a difficult one. The schedule had the Spartans start the season with 3 tough road games against some of the best teams in the IFL. They lost at both Wichita and Sioux Falls, who eventually played against each other for the United Conference finals. Just before halftime of the very first game the Spartans would lose their starting Quarterback to a knee injury, beginning a season where they would go through multiple Quarterbacks and Kickers, trying to find the right fit for the team. During the following streak of 5 home games they were more competitive, but still finished the first half of the season 0-7. The Spartans earned their first victory against the Chicago Slaughter on April 30th in front of their home crowd. Over the second half of the season they had more close home losses, difficult road losses, and picked up their first road victory against the Chicago Slaughter on June 12th with about 50 Spartans fans in Chicago to cheer them on. Although they finished the season a disappointing 3-11, there were also multiple bright spots in the season both on and off the field, and the team has started building towards a long term future in La Crosse.
References
Edit
External links
Edit