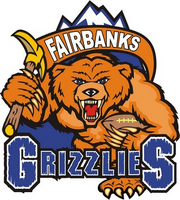 The Fairbanks Grizzlies are a professional indoor football team in the Indoor Football League. The team will play their home games at the Carlson Center in Fairbanks, Alaska. The team's most notable rival is the Alaska Wild.
The Grizzlies are notable for being the northernmost professional gridiron football team in history; the Alaska Wild held the previous record, and before that, the Edmonton Eskimos. Grizzlies games are broadcast live on KCBF.
2008 season
Edit
Fairbanks was excited over the fact of a professional football team playing for the city. The team hired John Fourcade as coach, and he made a big impact, helping them upset the Odessa Roughnecks and eventually get three wins and many close losses. Quarterback Bo Bartik also came in to help in an interesting turn in his playing career, which included starting for the Rome Renegades and Daytona Beach Thunder. The Fairbanks Grizzlies also had a number of local players such has West Valley's own Josh Craft, Justin Ferringer, Jay Fulk, Donnie McCumby, Mike Quinn, and Shane Tufford, and Lathrop High school's Brian Stuvek, Kenny Wilson, and Jeff Flanagan.
2009 season
Edit
Head coach John Fourcade left the team and was replaced by Sean Ponder. Only three players from the 2008 team where brought back, Mike Quinn, Mike Holett, and Brian Stuvek, but after missing six extra points in one game, the Grizzlies released the one time IFL (intense football league) player of the week. Once the Arena Football League folded the team was filled with players from the AFL. The Grizzlies finished the season 7-7 making the playoffs in only their second season only to lose in the second round to the IFL champion Billings Outlaws.
External links
Edit
Ad blocker interference detected!
Wikia is a free-to-use site that makes money from advertising. We have a modified experience for viewers using ad blockers

Wikia is not accessible if you've made further modifications. Remove the custom ad blocker rule(s) and the page will load as expected.