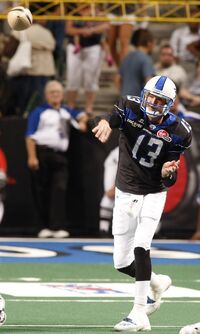 Clint Dolezel (born March 25, 1970 in Lorena, Texas) is the current head coach for the San Angelo Stampede Express.
He was originally signed by the Milwaukee Mustangs. He played college football at East Texas State.
In his career, he has also played for the Texas Terror/Houston Thunderbears, Grand Rapids Rampage, Las Vegas Gladiators, and the Dallas Desperados. Dolezel is also a scout for the Dallas Cowboys.
Junior College years
Edit
Dolezel attended Cisco Junior College and was a student and a letterman in football. In football, he was a second team All-Conference selection as a sophomore.
College years
Edit
Dolezel attended East Texas State University and was a letterman in football and golf.
Arena Football League career
Edit
On March 12, 2006, Dolezel threw his 700th career touchdown, becoming just the third Quarterback in AFL history to do so. The Desperados won that game versus the Tampa Bay Storm 64-35.
Dolezel, along with Wide receiver Terrill Shaw, lead the Grand Rapids Rampage to the 2001 Arena Football Championship. Dolezel and Shaw would eventually become teammates again playing for the Dallas Desperados in 2006.
On April 16, 2007, in a 51-41 home win against the Philadelphia Soul, Dolezel became the very first professional Quarterback to throw 800 touchdown passes.[1] In 2007, Dolezel became the first Quarterback in league history to lead his team to 15 wins in a season. Despite the 15-1 record, Dallas lost to the 7-9 Columbus Destroyers in the first round of the playoffs. In 2008, Dolezel became the first quarterback in league history to complete 900 touchdown passes, in a game versus the Grand Rapids Rampage.
Dolezel has said that he would like to be a coach after his career is over. It was announced that on January 19, Dolezel would become the Offensive coordinator for the Florida Firecats' 2009 season (due to the Arena Football League suspending operations for 2009).[2]
Statistics
Edit
| Year | Comp. | Att. | Comp% | Yards | TD's | INT's | Rating |
| --- | --- | --- | --- | --- | --- | --- | --- |
| 1995 | 10 | 12 | 83.3 | 121 | 2 | 1 | 113.5 |
| 1996 | 9 | 16 | 56.3 | 103 | 2 | 1 | 80.9 |
| 1997 | 259 | 388 | 66.8 | 3377 | 69 | 15 | 117.4 |
| 1998 | 343 | 558 | 61.5 | 4228 | 81 | 17 | 108.4 |
| 1999 | 374 | 556 | 67.3 | 4336 | 80 | 19 | 112.3 |
| 2001 | 364 | 574 | 63.4 | 3952 | 80 | 10 | 111.2 |
| 2002 | 339 | 505 | 67.1 | 3878 | 79 | 19 | 113.4 |
| 2003 | 361 | 545 | 66.2 | 4431 | 89 | 15 | 119.2 |
| 2004 | 381 | 585 | 65.1 | 4428 | 93 | 12 | 118.9 |
| 2005 | 302 | 465 | 64.9 | 3505 | 78 | 16 | 112.8 |
| 2006 | 375 | 573 | 65.4 | 4685 | 105 | 11 | 122.2 |
| 2007 | 375 | 533 | 70.4 | 4474 | 107 | 9 | 128.2 |
| Career Statistics | 3492 | 5310 | 65.8 | 41518 | 865 | 145 | 117.6 |
External links
Edit