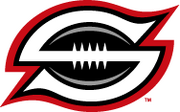 The Chicago Slaughter are an American professional football team based in Hoffman Estates, Illinois. They are currently members of the Indoor Football League.
The Slaughter are members of the Central Division. They are one of the three indoor/arena football teams based in Chicago with the others being the Chicago Rush and Chicago Cardinals (CIFL). (However there is another based in the State, other being the Bloomington Extreme), The franchise has won their first championship in 2009, which is quicker than that of any other Indoor Football League Team.
Chicago's Head Coach is Steve McMichael, and their general manager is Alan Perkins.
External links
Edit
Ad blocker interference detected!
Wikia is a free-to-use site that makes money from advertising. We have a modified experience for viewers using ad blockers

Wikia is not accessible if you've made further modifications. Remove the custom ad blocker rule(s) and the page will load as expected.