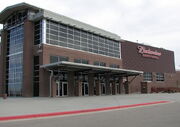 The Budweiser Events Center is a 7,200-seat multi-purpose arena in Loveland, Colorado (USA).
Construction was completed and doors opened for the first event on September 20, 2003 with a sold-out exhibition hockey game between the Colorado Avalanche and the Florida Panthers.
The Arena is located on The Ranch (Larimer County Fairgrounds and Events Complex) and is owned by Larimer County, Colorado and managed by Global Spectrum, L.P., and tickets are handled by ComcastTIX.
It is home to the Colorado Eagles ice hockey team, the Colorado Ice indoor football team and the Colorado Lightning indoor soccer team.
External links
Edit
Ad blocker interference detected!
Wikia is a free-to-use site that makes money from advertising. We have a modified experience for viewers using ad blockers

Wikia is not accessible if you've made further modifications. Remove the custom ad blocker rule(s) and the page will load as expected.