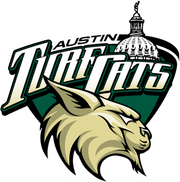 The Austin Turfcats are a professional indoor football team and was a member of the Indoor Football League during the 2010 season, after being a charter member of the Southern Indoor Football League for the SIFL's inaugural 2009 season. Based in Texas' capital city of Austin, the Turfcats will play their home games at Luedecke Arena at the Travis County Exposition Center. This is Austin's fourth attempt at an indoor football team; the prior three were the Indoor Professional Football League's Texas Terminators (1999), the National Indoor Football League's Austin Knights/Austin Rockers (2002–2003), and the Arena Football League (later af2's) Austin Wranglers (2004–2008) (the former two of which played in Luedecke Arena before the Turfcats).
Chris Duliban serves as the team's head coach. He earned his first indoor coaching opportunity as the defensive coordinator of the Indoor Professional Football League's Texas Terminators. Duliban was the Head Coach for the Centex Barracudas of the Intense Football League in 2008.
They will not be in IFL for 2011 season.
External links
Edit
Ad blocker interference detected!
Wikia is a free-to-use site that makes money from advertising. We have a modified experience for viewers using ad blockers

Wikia is not accessible if you've made further modifications. Remove the custom ad blocker rule(s) and the page will load as expected.