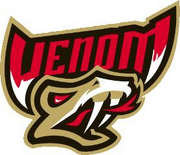 The Amarillo Venom are an professional indoor football team in the Indoor Football League. The Venom began play in 2004 as the Amarillo Dusters, a charter member of the Intense Football League, a small indoor football league based in Texas. They won the championship in their first and only season with the IFL. The following year, the Dusters became the first team to leave the Intense Football League and join the af2, where they played for four seasons until the af2's folding in 2009. At that point, the team held a fan vote as to whether to join their af2 brethren in the new Arena Football 1 or enjoy numerous Texas rivalries in the Indoor Football League. On October 9, 2009, it was announced that, because of a 65-35 percent margin in the fan vote, the Dusters would be moving to the Indoor Football League for the 2010 season. The team plays their home games at Amarillo Civic Center.
The team was featured on an episode of Only in America, a show that airs on the Discovery Times channel.
On December 21, 2008 the Dusters introduced a new color scheme for the team. The new colors were revealed as crimson, gray, and black.
It was announced on January 28, 2010 that the Dusters would have to be renamed, because the Arena Football 1 owns the rights to the Dusters name and logo. On February 8, the new Amarillo Venom name and logo was unveiled.
2011 Season
Edit
| | | |
| --- | --- | --- |
| Date | Team | Score |
| 02/25/2011 | @Colorado Ice | |
| 03/13/2011 | @Bricktown Brawlers | |
| 03/18/2011 | Wyoming Cavalry | |
| 03/25/2011 | @W. Texas Rough Necks | |
| 04/02/2011 | Allen Wranglers | |
| 04/09/2011 | Colorado Ice | |
| 04/16/2011 | @Wichita Wild | |
| 04/23/2011 | W. Texas Rough Necks | |
| 04/30/2011 | Allen Wranglers | |
| 05/14/2011 | Bricktown Brawlers | |
| 05/21/2011 | @Allen Wranglers | |
| 05/28/2011 | @Arizona Adrenaline | |
| 06/06/2011 | Oklahoma City Brawlers | |
| 06/11/2011 | @W. Texas Rough Necks | |
External links
Edit