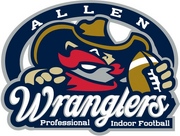 The Allen Wranglers are a professional indoor football team based in Allen, Texas scheduled to begin play in 2011 in the Indoor Football League. The Wranglers will play their home games at the Allen Event Center.
The Wranglers began play as the Arkansas Twisters and was a planned charter member of Arena Football 1 (and before that a charter member of af2), and played their home games at Verizon Arena.
On November 17th, the team left Arena Football 1 to join the Indoor Football League. Due to a complicated legal process, the team had to change its name. On February 4, 2010, they announced that Arkansas Diamonds won the fan vote.
The Diamonds have since left Arkansas and are moving to Allen, Texas for the 2011 IFL season. After a name-the-team contest, the team announced on September 29 it would be called the Allen Wranglers.
2011 Season
Edit
| | | |
| --- | --- | --- |
| Date | Team | Score |
| 02/28/2011 | W. Texas Rough Necks | |
| 03/06/2011 | @Bricktown Brawlers | |
| 03/18/2011 | @Fairbanks Grizzlies | |
| 03/25/2011 | Bricktown Brawlers | |
| 04/02/2011 | @Amarillo Venom | |
| 04/08/2011 | W. Texas Rough Necks | |
| 04/16/2011 | @Nebraska Danger | |
| 04/23/2011 | Wichita Wild | |
| 04/30/2011 | @Amarillo Venom | |
| 05/07/2011 | Nebraska Danger | |
| 05/14/2011 | @W. Texas Rough Necks | |
| 05/21/2011 | Amarillo Venom | |
| 06/04/2011 | @Colorado Ice | |
| 06/11/2011 | Bricktown Brawlers | |
External links
Edit